Here's my list, what's your guy's lists looking like?
Annoying
1. Ohmibod/Lovense/Any Tip Toy Scam. It was a dark day when camgirls found hitachis and realized they could stop using dildos and literally coverage their vag with a huge wand for tips. Now it's gotten even worse and faker with these things.
2. Septum Piercings. Who made these popular and why do people think these things are attractive? I understand small accessory nose piercings, but when girls are competing with each other with these oversize crown ones, it's not different than the dick measuring contests of idiots who do too much to their cars.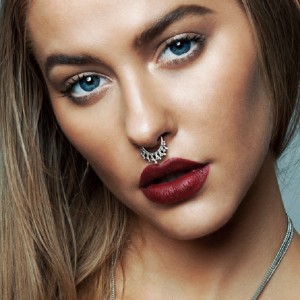 3. Lack of New Talent. It seems like in years before, there was a never ending supply of fresh new faces. Nowadays, we'd be lucky to get one new fresh face in months. I'm guessing most hot girls are "Instagram Models" pushing gym clothes and detox teas while the ones not pretty enough for that are left for camming.
4. Tattoos. I thought the copycat era of tattoos would have learned from the tramp stamp era, but I guess not. Literally every girl with more than one tattoo has the thigh tattoo, the rib/underboob tattoo, and the arm sleeve tattoo. If every girl has the same tattoo locations, doesn't that just ruin the uniqueness of it all? (not to mention pretty unappealing overall)
Positive
1. Natural Eyebrows. I appreciate that girls have stopped plucking their eyebrows and then re-drawn them in ridiculous fashion. Now they leave them natural and try to enhance them to be bushier. I find it a better, more appeasing look.
Last edited by a moderator: