I am organizing my computer and I need to know who this woman is. I did use SauceNAO, TinEye, and Google Image Search with no luck. Here is the picture:
[URL=http://img248.imagevenue.com/img.php?image=129911266_5CE0FA37_8729_450A_8EB6_05E20D6FDCB8_3727_0000093831A496F7_122_502lo.jpg]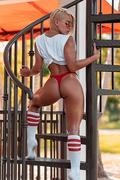 [/URL]
I love to know who she is. Does anyone know who she is???? I appreciate the help and thank you.